Stormwater Management
What is Stormwater


Stormwater runoff is generated from rain and snowmelt events that flow over land or impervious surfaces, such as paved streets, parking lots, and building rooftops and does not soak into the ground. Montague Township has an extensive Stormwater Pollution Prevention Plan (SPPP)

Stormwater Pollution
Stormwater Pollution is one of New Jersey's greatest threats to clean and plentiful water. By sharing the responsibility, making small easy changes in our daily lives, and adhering to Stormwater Regulations, we can keep common pollutants out of stormwater it all adds up to cleaner water, and it saves the high cost of cleaning up polluted water.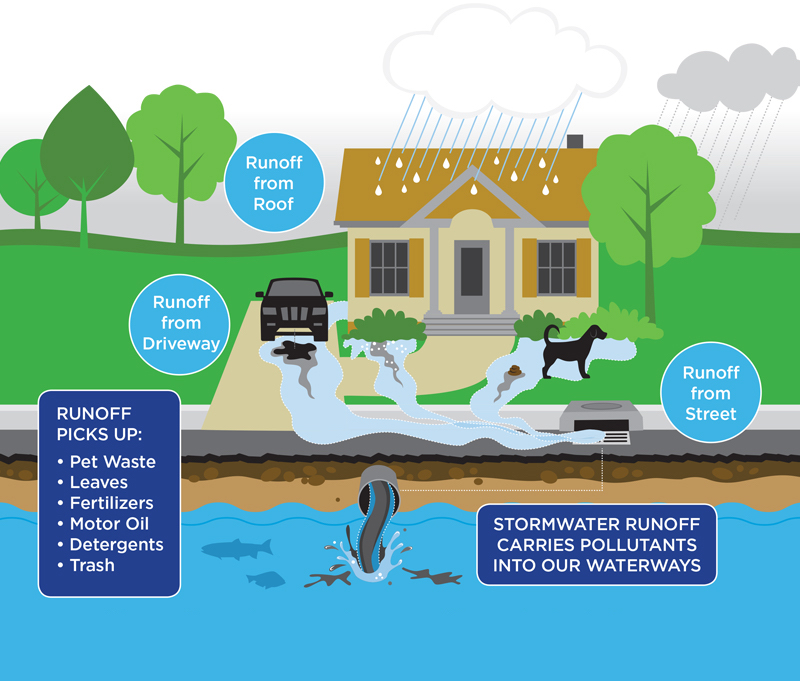 Stormwater Coordinator Contact
For more information and questions on the Stormwater Program, please contact:


David Coss, Department of Public Works Foreman
2 Weider Road

Montague, NJ 07827
973-293-7616
Dana Klinger, Municipal Clerk/Administrator
277 Clove Road
Montague, NJ 07827
973-293-7300 ext. 13
Stormwater Guidelines

LIMIT YOUR USE OF FERTILIZERS & PESTICIDES
Perform a soil test to see if you need fertilizer.

Do not apply fertilizer if heavy rain is predicted.

Look into pesticide alternatives.

Maintain a small lawn and keep the rest of your property in a natural state.

Carefully follow all label instructions when using fertilizers or pesticides. Properly discard any unused portions.
PROPERLY USE AND DISPOSE OF HAZARDOUS PRODUCTS
Hazardous products include:

Certain household or commercial cleaning products

Lawn and garden care products

Motor oil

Antifreeze

Paints

DO NOT pour hazardous products down storm drains.

Storm drains are connected to local water bodies.

If you have hazardous products, dispose of them properly.

Check labels for guidance.

Use natural or less toxic alternatives when possible.

Recycle Used Motor Oil.
DON'T LITTER
Place litter in trash cans.

RECYCLE. RECYCLE. RECYCLE.

Participate in community clean-ups.
CURB YOUR PET
Follow local pet waste laws.

Pick up and properly dispose of pet waste.

NEVER discard pet waste in a storm drain.
DON'T FEED WILDLIFE
Do not feed wildfowl, such as ducks and geese.
DISPOSE OF YARD WASTE PROPERLY
Keep leaves and grass out of storm drains.

Follow Montague Township yard waste collection regulations.

Use leaves and grass clippings for compost.

Use a mulching mower to recycle grass clippings into the lawn.
TAKE YOUR CAR TO THE CAR WASH
When you wash your car in the driveway soap and pollutants go directly into lakes, rivers